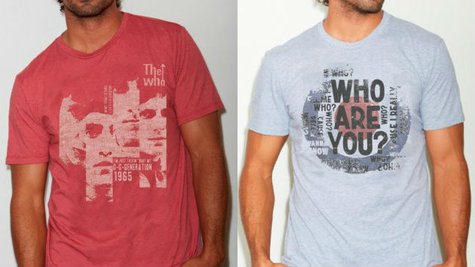 The Who has teamed up with the Lyric Culture company to create a new line of themed clothing that will be sold exclusively at select Bloomingdale's stores around the U.S. starting on April 15. The Who Collection will feature T-shirts and hooded sweatshirts that boast screen-printed images of the band's album covers, as well as lyrics penned by Who guitarist/songwriter Pete Townshend .
Prices for the tees and hoodies range from $48 to $98. Among the classic Who songs whose words will be featured on the apparel items are "Baba O' Riley," "Behind Blue Eyes," "Long Live Rock," "My Generation," "Pinball Wizard," "Won't Get Fooled Again" and "Who Are You."
"Our team was deeply moved by the songs of The Who which are incredibly meaningful, extremely powerful and illustrate storytelling through music at its very best," Lyric Culture founder Hanna Rochelle says in a statement. "Design inspiration is easy when you are working with such descriptive and thoughtful words." The apparel line was put together via a partnership with Spirit Music Group, the publishing company that oversees the use of Townshend's compositions.
The Who Collection will be available for purchase at Lyric Culture shops within Bloomingdale's locations in Los Angeles, San Diego, San Francisco and Santa Monica, California; Aventura, Florida; Atlanta, Georgia; Chicago, Illinois; Hackensack, New Jersey; and New York City and Garden City, New York.
Copyright 2013 ABC News Radio