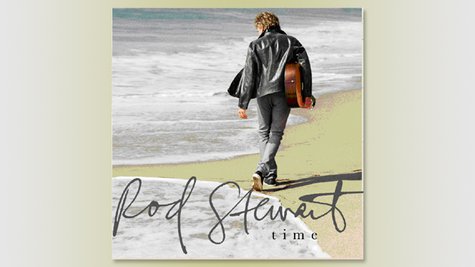 It's Time for a new Rod Stewart single. "She Makes Me Happy," the first release from Rod's upcoming album Time, is out today and available for download. You can also pre-order Time via iTunes starting today and get an instant download of the new single. A second single, "Finest Woman," will be released on April 8.
As previously reported, Time will be in stores May 7. It's the rock legend's first album of new material in nearly two decades. Rod wrote 11 of the 12 tracks after rediscovering his passion for songwriting, something he says writing his autobiography helped him to do.
"Something about that process of reviewing my life for the book reconnected me and that was it: I was away," he says in a statement. "Suddenly ideas for lyrics were piling up in my head...I finished seven or eight songs very quickly and I still wasn't done and it became apparent that I would eventually have a whole album of material to record, which had never happened before."
You can check out snippets of seven of Rod's new songs in a new video that's now posted at RodStewart.com and on YouTube .
Here's the track listing for Time :

"She Makes Me Happy"
"Can't Stop Me Now"
"It's Over"
"Brighton Beach"
"Beautiful Morning"
"Live the Life"
"Finest Woman"
"Time"
"Picture in a Frame"
"Sexual Religion"
"Make Love to Me Tonight"
"Pure Love"

Time iTunes Deluxe Edition (Bonus Tracks)
"Love Has No Pride"
"Corina Corina"
"Legless"
Copyright 2013 ABC News Radio