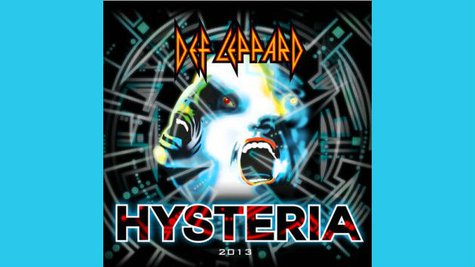 In honor of the start of Def Leppard 's Viva! Hysteria residency in Las Vegas this Friday, the U.K. rockers have released a newly re-recorded version of their hit 1987 single "Hysteria" as a digital download. The band will play 11 shows during its Vegas engagement, which will take place at The Joint at Hard Rock Hotel & Casino and will run through April 13.
At each concert, Def Leppard will perform its classic 1987 album, Hysteria , in its entirety, as well as a selection of its popular tunes from other records. The band will play the intimate show on a specially created set.
Regarding the new single, Def Leppard frontman Joe Elliott says, "We wanted to do something special to coincide with the Las Vegas Viva! Hysteria residency, so we decided that to re-record the album's title track would be the perfect way to bring together the live & the studio experience in a 2013 celebration of all things Hysteria ."
The band recorded the tune at Elliot's Dublin, Ireland, studio and co-produced the track with Ronan McHugh .
1987's Hysteria album reached #1 on the Billboard 200 and yielded an impressive six top 20 hits on the publication's Hot 100 tally -- the title track, "Animal," "Armageddon It," "Pour Some Sugar on Me," "Rocket" and the chart-topping "Love Bites." The album has sold more than 12 million copies in the U.S., according to the Recording Industry Association of America.
Here are all of the dates for Def Leppard's Viva! Hysteria residency:
March 22, 23, 27, 29 and 30
April 3, 5, 6, 10, 12 and 13
Copyright 2013 ABC News Radio