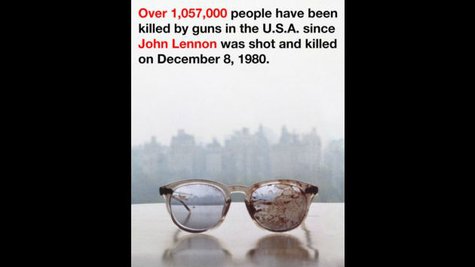 As part of a series of Twitter messages imploring people to support gun control, Yoko Ono has posted a photograph of what appears to be the blood-stained glasses her late husband, John Lennon , was wearing when he was shot to death. The image, which may be the same one that comprises the cover of Ono's 1981 album, Season of Glass , shows the glasses resting on a windowsill in the apartment John and Yoko shared in the Dakota building in New York City.
Attached to the pic is a message that reads, "Over 1,057,000 people have been shot and killed by guns in the U.S.A. since John Lennon was shot and killed on December 8, 1980." The note was one of several Ono tweeted on Wednesday, which marked her and Lennon's 44th wedding anniversary.
Among the other messages Ono tweeted were ones that say, "The death of a loved one is a hollowing experience. After 33 years our son Sean and I still miss him," and "31,537 people are killed by guns in the USA every year. We are turning this beautiful country into war zone."
Ono also posted a link to an audio interview with Lennon and her that was taped in Amsterdam on their wedding day, March 20, 1969. During the conversation, the couple discusses their support of world peace and anti-violence.
Copyright 2013 ABC News Radio