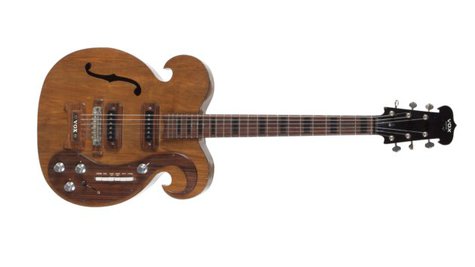 A rare custom-made Vox electric guitar played by both John Lennon and George Harrison while they were in The Beatles is among the highlights of a memorabilia auction that will be held at the Hard Rock Café in New York City on May 18. The instrument, which can be seen in the Fab Four's Magical Mystery Tour film, is expected to fetch between $200,000 and $300,000.
"It's extraordinary when you have the opportunity to offer such an amazing piece of music history as the Vox guitar played by both George Harrison and John Lennon," says Martin Nolan , executive director of Julien's Auctions, which is organizing the sale. "This guitar is truly one of the most historical pieces of music memorabilia Julien's Auctions has ever had the pleasure of offering."
Other Beatles-related items that will be up for bid at the Music Icons 2013 auction will be an autographed copy of the group's debut album, Please Please Me , and a copy of Lennon's book In His Own Write signed by all four band members. Also on the block will be two versions of The Beatles' Yesterday and Today album featuring the infamous "butcher" cover.
In addition, a wide variety of collectibles from Elvis Presley , The Rolling Stones , David Bowie , Bob Dylan , Jimi Hendrix , Michael Jackson and Madonna also will be offered at the sale.

Various items from the auction will be on display at the Hard Rock Café from May 6 through May 18. Before that, the Vox guitar will be viewable at from April 16 until May 8 at the Museum of Style Icons in the Newbridge Silverware store in Newbridge, Ireland.
Copyright 2013 ABC News Radio