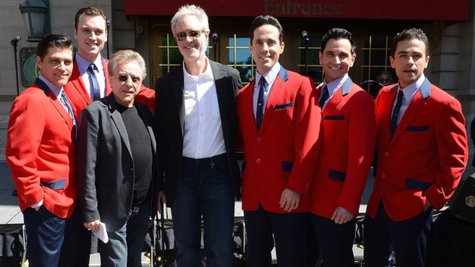 Frankie Valli and the Four Seasons were honored with a star on the Las Vegas Walk of Stars on Thursday, and Valli and his former band mate Bob Gaudio were on hand to celebrate the occasion. The unveiling ceremony was held in conjunction with the fifth anniversary of the premiere of the Las Vegas production of Jersey Boys -- the jukebox musical Gaudio helped create that tells the story of the group.
The event took place at the Paris Las Vegas hotel, where Jersey Boys ' Las Vegas edition moved in March 2012 after spending its first four years at The Palazzo Las Vegas. The musical's cast members also joined Valli and Gaudio during the festivities.
During the ceremony, Valli said, "This is really very, very exciting and probably one of the most important highlights in my life." Frankie and Bob also were presented with replicas of the stars, as well as special badges of honor.
Speaking with the Las Vegas Sun about the enduring success of Jersey Boys , Gaudio -- who co-wrote many of The Four Seasons' biggest hits -- said, "It's too difficult for us to analyze why and how we have lasted so long. Nothing was premeditated with that in mind. We just did what we were comfortable doing."
He added, "All we can say is that we are very fortunate. Our songs have been in many films over the years, so that's carried us through. Frankie is still out touring, and new versions of our old songs released…have kept us there to reach generation after generation."
Gaudio also revealed that a Jersey Boys movie is in the works that he hopes will premiere sometime in 2014. The stage show originally debuted in 2005, and currently, the production is running in seven different locations around the world, including Broadway.
Copyright 2013 ABC News Radio