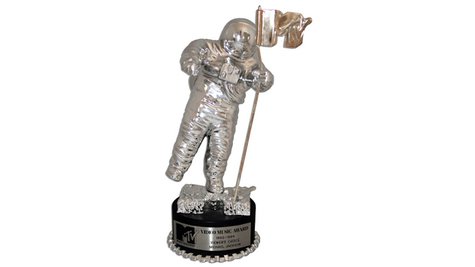 Want to own a piece of Michael Jackson history? One of the late King of Pop's most memorable awards -- the MTV Viewer's Choice VMA he won for "Thriller" in 1984 -- is going on the auction block.
The trophy, which will be sold by Nate D. Sanders Auctions on April 2, is expected to fetch at least $100,000. In a statement, Sanders says, "This is the best MJ award one could ever hope to own. In fact, it is the most valuable music award in existence."
While that may or may not be true, Sanders contiues, "'Thriller' was Michael Jackson's music video masterpiece and any award from even The Beatles , Elvis , Madonna or The Rolling Stones isn't expected to match this piece at auction. It is the second most expensive Jackson item to be sold at auction after the $1.8 million 'Thriller' jacket."
Bids can be placed online at NateDSanders.com or by phone at 310-440-2982; the sale ends at 5 p.m. PT on April 2.
In other Jackson news, today, March 25, marks the 30-year anniversary of one of his most memorable moments: the introduction of the moonwalk. As Rolling Stone notes, March 25, 1983, was the day that the Motown 25th Anniversary Special was taped in Pasadena, California. That night, the audience saw Michael perform "Billie Jean" -- at the time, the #1 song in the country -- and then debut his famous gravity-defying dance step at the end. When the special aired in May on NBC, the entire world took notice.
Rolling Stone says of that moment, "Jackson's performance brought his fame to a whole other level. One could even argue that it was the highpoint of his entire career."
Copyright 2013 ABC News Radio