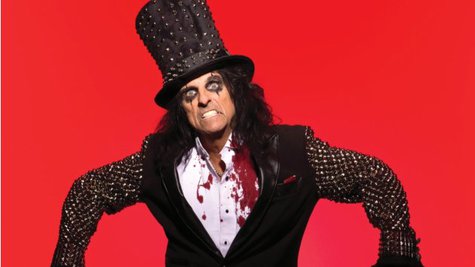 Alice Cooper will be joined by Doors guitarist Robby Krieger and several other rock stars at a benefit concert this Thursday in Sioux Falls, South Dakota. The show is one of a series of sold-out events that will be held this week to celebrate the grand opening of the Brennan Rock & Roll Academy , a facility that offers music-education programs to youngsters in the Sioux Falls area, with a focus on instruments used in rock music.
The Cooper concert also will feature appearances by Kiss guitarist Tommy Thayer and drummer Eric Singer , ex- Skid Row singer Sebastian Bach and Warrant guitarist Joey Allen . The series kicks off on Tuesday with a concert by Night Ranger , while a comedy showcase co-headlined by comedians Louie Anderson and George Lopez will take place the following night. The celebration will wrap up on Saturday with show featuring Mötley Crüe frontman Vince Neil and founding Ratt singer Stephen Pearcy , who will perform alongside the '80s rock tribute band Hairball .
Proceeds raised by the shows will be donated to the Boys & Girls Clubs of the Sioux Empire , an organization that provides of variety of services to children in the Sioux Falls region.
"I grew up with the Boys & Girls Club, and have a lot of respect for the work they do in our communities," says the Brennan Rock & Roll Academy founder Chuck Brennan in a statement. "I'm thrilled to share my love for music with kids who would normally not be able to afford to chase their musical passions."
Copyright 2013 ABC News Radio