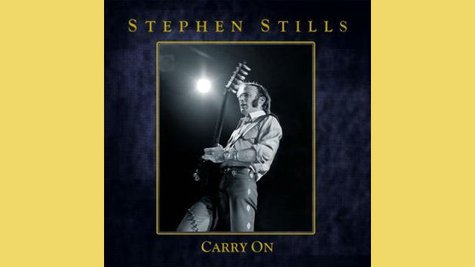 Stephen Stills ' expansive new box set, Carry On , arrives in stores today, offering fans an in-depth look at the folk-rock great's half-century music career. The creation of the retrospective was painstakingly overseen by Stills' longtime band mate Graham Nash , who during the last several years also spearheaded similar compilations for himself and fellow Crosby, Stills & Nash member David Crosby -- 2009's Reflections and 2006's Voyage, respectively.
Nash tells ABC News Radio that he hopes Carry On will give music aficionados a true appreciation of the scope of Stills' talents for years to come.
"I want in 50 years time for people to really understand who Stephen Stills was," explains Graham, "how much of a great musician Stephen Stills is, what a great songwriter he is and what a great guitar player he is. I want people to understand who he is."
Nash also points out that he really had his work cut out for him in putting together the collection, which is spread over four CDs -- one more than Nash's and Crosby's compilations.
"All of our recordings of me and David don't come anywhere close to the amount of time that Stephen Stills spent in the studio, especially in the '70s," he notes. "He would go in for weeks. There was an enormous amount of material to have to plow through."
Carry On spans a whopping 82 songs, including classic studio recordings from Stephen's solo catalog, The Buffalo Springfield , CSN and Crosby, Stills, Nash & Young , as well as demos, outtakes, live performances and newly remixed songs. In all, there are 25 previously unreleased tracks featured on the set.
According to Graham, one of the most interesting songs uncovered for the collection is the lead track, a 1962 acoustic performance of a tune titled "Travelin'" that Stills recorded for Voice of America radio when his family was living in Costas Rica.
"He was a child, still is," quips Nash.
Carry On also boasts one outtake from a legendary series of jam sessions featuring Stills and Jimi Hendrix . Nash says that while a lot of tape exists from the collaboration, he decided that most of it was not worth releasing.
"You have to be very careful about this because, from a historical point of view, Jimi was such an amazing musician," he explains. "There are hours and hours of them just jamming in the studio that got nowhere…that were great for a minute and a half but didn't go anywhere."
RollingStone.com currently is streaming one track from Carry On : a live CSNY performance of "Find the Cost of Freedom" from a October 3, 1971, concert at Boston's Music Hall.
Copyright 2013 ABC News Radio