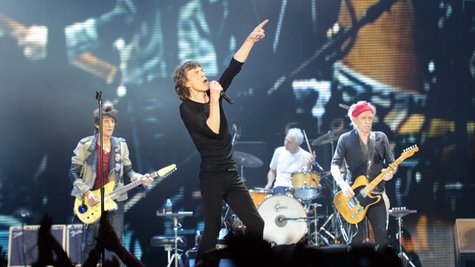 The rumors are true -- The Rolling Stones will indeed be playing at the 2013 edition of the U.K.'s Glastonbury festival . The band has confirmed that it will be the headlining act on June 29, the second day of the three-day event.
Frontman Mick Jagger says in a statement, "Can't wait to play Glastonbury. I have my wellies [rain boots] and my yurt [tent]!" Adds guitarist Keith Richards , "We all had such a ball last year, and the energy between the band is so good. We can't wait to play Glastonbury, see you on a summer's day in England!"
The Stones will perform on the Pyramid Stage, which is the festival's main stage. Tickets for the Glastonbury fest, which is held in Pilton, England, are already sold out.
Other artists on the Glastonbury lineup include Steve Winwood , Elvis Costello , The Smashing Pumpkins , Chic Featuring Nile Rogers , The Family Stone , Kenny Rogers , Talking Heads spinoff group Tom Tom Club and ex- Rolling Stones bassist Bill Wyman 's current band, The Rhythm Kings .
Copyright 2013 ABC News Radio