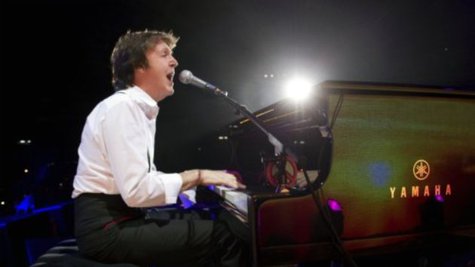 Concertgoers who went to see an intimate show by Paul McCartney 's son, James , at the Ambassadors Theatre in London on Wednesday got a very special treat. Not only was the younger McCartney joined by a famous, previously announced guest, Rolling Stones guitarist Ronnie Wood , but James' famous dad also took to the stage to accompany the 35-year-old singer/songwriter.
According to JamesMcCartneyFanClub.com , Sir Paul played piano on three songs while James and Ronnie both strummed acoustic guitars. Wood reportedly sat in on six of the 16 tunes performed during the gig. The sold-out concert was a warm-up for James McCartney's impending U.S. tour in support of his upcoming full-length debut album, Me , which is due out in May. The trek kicks off April 6 in Portland, Oregon, and is scheduled through a June 11 show in Nashville.
Speaking of stateside tour dates, The Boston Globe reports that Paul McCartney will be returning to Boston's Fenway Park for a July 9 performance. The Beatles legend previously played two shows at the famous ballpark back in 2009. No official confirmation of this concert has come from the McCartney camp.
Copyright 2013 ABC News Radio