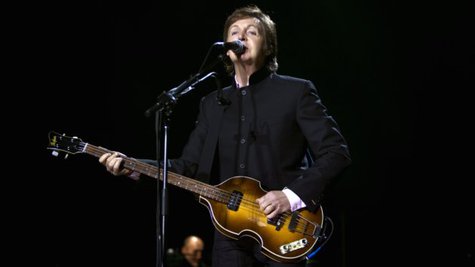 Paul McCartney has undoubtedly inspired countless bassists over the years, but which musician does he consider to have had the greatest influence on his own playing? In the second installment of the "You Gave Me the Answer" feature on his official website, the Beatles legend names James Jamerson , a member of the famed Motown session group The Funk Brothers , as his biggest influence as a bass player.
McCartney notes that Jamerson, who was only 47 when he died in 1983, "played on many of my favorite Motown releases." Jamerson was featured on dozens of classic pop-soul hits, including The Four Tops ' "Reach Out I'll Be There," Martha and the Vandellas ' "Dancing in the Street," The Supremes ' "You Can't Hurry Love" and Stevie Wonder 's "I Was Made to Love Her." He was inducted into the Rock and Roll Hall of Fame in 2000.
Meanwhile, McCartney has added several new international dates to his recently announced Out There! Tour . The 70-year-old rocker has scheduled three concerts in Brazil -- May 4 in Belo Horizonte, May 6 in Goiania and May 9 in Fortaleza -- as well as a June 25 show in Verona, Italy. These gigs join Sir Paul's two previously announced performances -- on June 22 in Warsaw, Poland, and June 27 in Vienna, Austria.
Copyright 2013 ABC News Radio