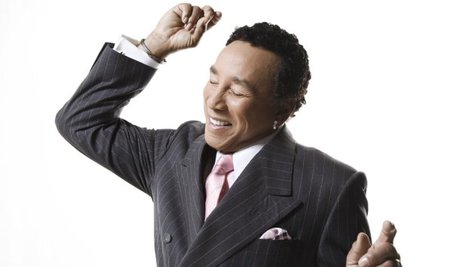 Smokey Robinson will team up with a variety of artists for a new album of duets that's scheduled to be released sometime in the fall. The project, part a new record deal the Motown legend has signed with Verve Music Group, will be comprised entirely of updated versions of many of the classic songs Robinson has written.
"I'm really excited about signing with Verve Music Group to release this upcoming album," says Smokey in a statement. "Not only do I have a musical history with the guys involved, but a longstanding friendship as well. I'm looking forward to bringing our talents to the table as we collaborate on this project."
Robinson was signed to Verve by veteran songwriter/producer David Foster , who notes that Smokey's "contributions to the world of music as a performer, producer and songwriter are nothing short of a 'miracle,'" adding, "I'm so pleased to welcome Smokey to the Verve Music Group family."
While no specific collaborators have been revealed yet, the album will feature Robinson performing with both contemporary and veteran stars. Among the memorable songs expected to appear on the collection are "My Girl," "The Tears of a Clown" and "Cruisin'."
While waiting for the record's arrival, you can catch Smokey in concert throughout the U.S. Here are all of his confirmed tour dates :
4/5 -- Durham, NC, Durham Performing Arts
4/6 -- Newport News, VA, Ferguson Center for the Arts Concert Hall
4/8 -- Naples, FL, Philharmonic Center for the Arts (Haynes Hall)
4/10 -- St. Petersburg, FL, Mahaffey Theater
4/11 -- Sarasota, FL, Van Wezel Performing Arts Hall
4/12 -- Fort Pierce, FL, Sunrise Theatre
4/20 -- Atlantic City, NJ, Caesars Palace
5/10 -- Vacaville, CA, Vacaville Performing Arts Theatre
5/11 -- San Ramon, CA, Dougherty Valley PAC
5/18 -- Jackson, MS, Jackson Convention Complex
5/23 -- Mescalero, NM, In of the Mountain Gods
5/25 -- Jean, NV, Buffalo Bill's Resort & Casino
11/9 -- Las Vegas, NV, Eastside Cannery
Copyright 2013 ABC News Radio