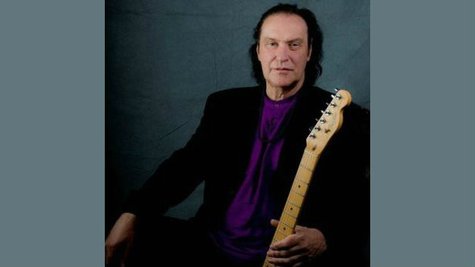 Kinks guitarist Dave Davies has announced plans for his first U.S. tour since he suffered a serious stroke in June 2004. The brief trek is plotted out from a two-night engagement, May 28-29, at the City Winery in New York City through a June 9 show at The Canyon in Agoura Hills, California.
During the tour, the 66-year-old Rock and Roll Hall of Famer will be selling copies of his upcoming solo album, I'll Be Me , which is expected to get its official release on June 4. According to a post on the City Winery website , I'll Be Me marks "a return to [Davies'] groundbreaking guitar sound and innovative songwriting," adding that his "classically English voice shows off a new deepness but still hits his famous high notes."
Here is the full track list of I'll Be Me , according to DaveDavies.com :
"Little Green Amp"
"Livin' in the Past"
"The Healing Boy"
"Midnight in L.A."
"In the Mainframe"
"Energy Fields"
"When I First Saw You"
"The Actress"
"Erotic Neurotic"
"You Can Break My Heart"
"Walker Through the Worlds"
"Remember the Future"
"Cote du Rhone (I Will Be Me)"
Here are all of Davies' confirmed tour dates :
5/28 -- New York, NY, City Winery
5/29 -- New York, NY, City Winery
5/30 -- Shirley, MA, The Bull Run
5/31 -- Norfolk, CT, Infinity Hall
6/1 -- Bethlehem, PA, Musikfest Café
6/7 -- San Juan Capistrano, CA, The Coach House
6/9 -- Agoura Hills, CA, The Canyon
Copyright 2013 ABC News Radio