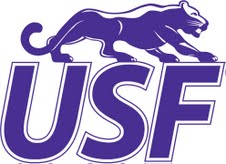 SIOUX FALLS, S.D. (April 30, 2013) – University of Sioux Falls head men's basketball coach Chris Johnson announced that Daven Ottley signed a national letter of intent with USF Tuesday and will join the Cougars' program this fall.
"We're excited that Daven has chosen to further his academic and athletic career at USF," said coach Johnson. "He's a good fit for this team. He's strong, plays with a great deal of energy and comes from a great basketball program at Sauk Valley."
Ottley, a 6-8, 235lb post player, joins USF after playing two seasons at Sauk Valley Community College (Ill.), where he averaged 15.9 points, 10.2 rebounds and 1.2 rebounds per game to lead the Skyhawks to a 21-11 mark last season.
In 27 appearances, Ottley recorded 15 double-doubles to earn first team All-Arrowhead Conference and first team All-Region IV recognition. His single-season highs included a 20 rebound effort against Truman College and 24 point performance vs. Kankakee CC.
The Kingstown, St. Vincent (British Virgin Islands) native, ranked top-25 in the nation for scoring (18) and field goal percentage (23). His 3.7 offensive rebound average also ranked 26th last season."We feel like he will make an immediate impact inside for us," added Johnson. "There's no doubt he can score and rebound, and those are two areas we can always improve in."
The Cougar's 2013-14 class now consists of two guards, Mack Johnson and Kebu Johnson, and a pair of front court players in Tom Aase and Ottley.
Courtesy: University of Sioux Falls