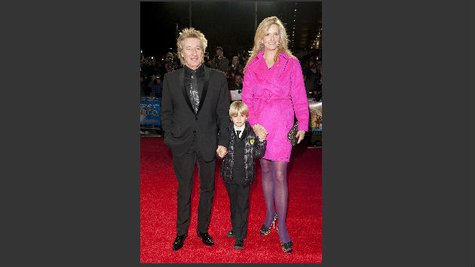 At age 68, you'd think Rod Stewart wouldn't have the energy to chase his two young sons around the house. But he says that, on the contrary, having kids late in life has been a "fountain of youth" for him.
Rod has eight children in all: the oldest is 50, while the youngest is two. Speaking with Entertainment Tonight , Rod says of being an older father, "I love it. People ask me about [it] -- for me, it's been a fountain of youth." He says his favorite part of fatherhood these days is "being woken up in the morning, when they jump on the bed."
He adds, "When you've had eight children, you tend to think with the first two or three that they're going to be little kids forever, but this time I'm making the most of actually watching them grow up. I take them to school...in [my] Ferrari!"
Rod didn't get the chance to take his oldest daughter, Sarah , to school, since she was put up for adoption as a baby, and he never met her until she was an adult. But these days, Rod says, "We've began to get on really well with each other. We e-mail each other, we keep in touch. I try and see her every time I go back [to England]."
And of course, Rod's also a grandfather: his daughter Kimberly has a 20-month-old daughter Delilah , whose dad is actor Benico del Toro . Far from being upset that he's now old enough for someone to call him "Grandpa," Rod tells ET, "I'm very proud of that!"
Copyright 2013 ABC News Radio