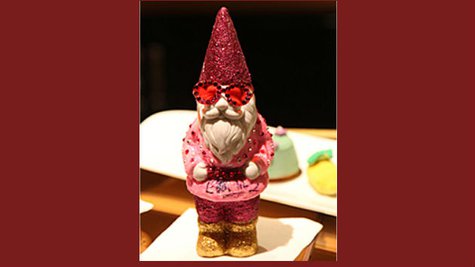 Elton John loves flowers, spending thousands of dollars annually on blooms for his many homes. So it's no surprise that he's partnered with London's most prestigious flower show to raise money for charity.
Along with other top British celebrities like Helen Mirren , Elton has decorated and autographed a garden gnome, which will be put on display later this month at the Royal Horticultural Society Chelsea Flower Show . After the show is over, the gnomes will be auctioned on eBay to raise money for a charity that hopes to encourage young people's interest in gardening.
The gnome that Elton donated was inspired by "Paris," the rock star gnome who's one of the characters in Gnomeo & Juliet , the animated film produced by his movie company, Rocket Pictures. It wears big oversized glasses just like Elton, and is covered with sequins. Elton has also autographed an additional set of Gnomeo & Juliet characters for the auction.
The RHS Flower Show takes place May 21-25.
Copyright 2013 ABC News Radio