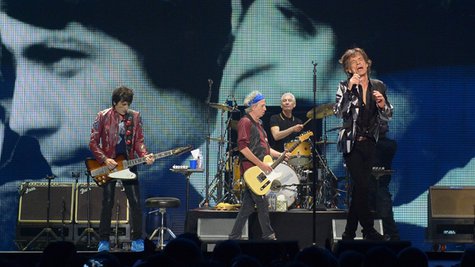 The Rolling Stones proved age ain't nothing but a number Friday night in Los Angeles, when they kicked off their "50 and Counting" tour before a star-packed audience. The band rocked an energetic mix of 23 tunes in just over two hours, with barely a pause between songs, and frontman Mick Jagger seemingly didn't stop moving the whole time.
As celebrities and fellow musicians including Jack Nicholson , Eddie Murphy , and Paul Stanley of KISS watched from floor seats -- each of which went for a minimum $600, face value -- the Stones mostly played the hits sprinkled with a few new songs, and even a throwback tune never before performed in concert.
Of course, special guests got in on the action. Gwen Stefani and Keith Urban joined the band onstage, as did former Stones guitarist Mick Taylor , reprising his guest appearances from earlier shows in the U.K. By the time "Satisfaction" was performed as the third and final song of the encore, an exhausted crowd was left wondering how, at almost 70 years old, Mick Jagger possibly has the energy to do it all again another 16 times over the course of the next few months.
Some show highlights:
-The concert opened with a video montage of people talking about The Stones, including memories of the first time they heard the band. Mixed in with fan testimonials were comments from director Martin Scorsese , Johnny Depp , Iggy Pop and other big names.
-The first song of the night was "(I Can't Get No) Satisfaction," but it wasn't played by The Rolling Stones -- it was played by the UCLA Bruins Marching Band .
-The first song The Stones played was "Get Off of My Cloud," which kicked off a run of hit songs including "The Last Time," "It's Only Rock 'n Roll," "Paint It Black," and "Gimme Shelter."
-Gwen Stefani joined the guys on "Wild Horses," wearing a Rolling Stones tank top, with most of her white bra visible.
-The guys performed "Emotional Rescue," the title track from their 1980 album, apparently for the first time ever on stage. That's according to Jagger, who alerted the crowd that they were hearing Stones history being made before launching into the tune's opening falsetto. They also performed "Factory Girl" for the first time in a long time, with Jagger on acoustic guitar.
-Keith Urban played guitar and sang with the band on the 1978 song "Respectable," delivering a thrashing guitar solo in the process.
-"Doom and Gloom" and "One More Shot," the two new tracks off of last year's GRRR! , were played back-to-back.
-Keith Richards commanded the stage for "Before They Make Me Run" and "Happy," without the usual backup vocals from Jagger, who left the stage during the performance. Richards told the crowd "It's great to be here. It's great to be anywhere, let's face it."
-Mick Taylor joined the band for a performance of the Stones' concert favorite "Midnight Rambler."
-The guys finished with a three-song encore, kicked off with "You Can't Always Get What You Want" accompanied by the California State University at Long Beach Cole Conservatory Chamber Choir . That was followed by "Jumping Jack Flash" and finally "(I Can't Get No) Satisfaction."
Here's the full set list:
Get Off of My Cloud
The Last Time
It's Only Rock 'n Roll (But I Like It)
Paint It Black
Gimme Shelter
Wild Horses (with Gwen Stefani)
Factory Girl
Emotional Rescue
Respectable (with Keith Urban)
Doom and Gloom
One More Shot
Honky Tonk Women
Before They Make You Run
Happy
Midnight Rambler (with Mick Taylor)
Miss You
Start Me Up
Tumbling Dice
Brown Sugar
Sympathy for the Devil
Encore:
You Can't Always Get What You Want
Jumping Jack Flash
(I Can't Get No) Satisfaction
Copyright 2013 ABC News Radio