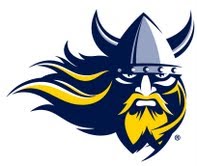 INDIANAPOLIS, IN. (KWSN) - Augustana earned the No. 6 seed in the NCAA Central Region Tournament and will face Minnesota State in the first round in Durant, Okla. on May 10 with game time yet to be determined. The Vikings finished in fourth at the NSIC Tournament last weekend with a 2-2 record and own a 32-15 overall record.
The Vikings are making their fourth consecutive NCAA Tournament appearance and 21st trip overall. The Central Region is comprised of the Northern Sun Intercollegiate Conference (NSIC), Mid-America Intercollegiate Athletics Association (MIAA), and the Great American Conference (GAC). The NSIC and MIAA tournament champions, Minnesota State and Fort Hays State, earned automatic bids into the Central Region Tournament.
In the Vikings' regional, Southeastern Oklahoma State (GAC) earned the No. 2 seed and Winona State grabbed the seventh seed. SOSU will host the regional in Durant, Okla. On the other half of the region, Fort Hays State was deemed the top seed and will face fellow MIAA member Emporia State, the eighth seed. Central Oklahoma was selected as the No. 4 seed and will play Minot State in the first round. Fort Hays State will host their region.
The winners of the two double-elimination regions will face in a best-of-three series at the higher remaining seed's home field the following weekend.
Courtesy Augustana College