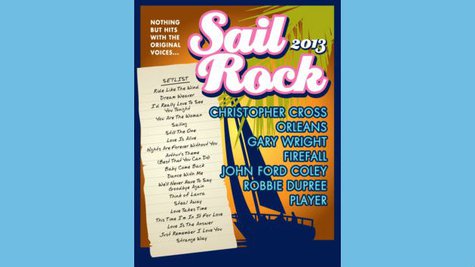 A variety of popular soft-rock acts of the 1970s and early '80s are joining forces for an upcoming tour of North America. The Sail Rock trek will feature performances by Christopher Cross , Orleans , Gary Wright , Firefall , John Ford Coley , Robbie Dupree and Player .
A total of 11 dates have been scheduled so far, stretching from a July 5 stop in Chautauqua, New York, through an October 8 show in Simcoe, Canada. Additional concerts are expected to be announced soon.
"I am very much looking forward to playing again with such a great group of artists this summer," says Wright, who's best known for his 1976 hits "Dream Weaver and "Love Is Alive." "I've worked with Christopher Cross, [Player's] Peter Beckett and Robbie Dupree in the past and I'm looking forward to working with Orleans and Firefall. It should be a great tour."
Adds founding Firefall member Jock Bartley , "It's an honor for us to be included. It'll be hit song after hit song being played on this amazing tour, some of the top tunes from that amazing decade."
Here are all of the confirmed dates on the 2013 Sail Rock Tour:
7/5 -- Chautauqua, NY, Chautauqua Amphitheater
7/13 -- Tower, MN, Fortune Bay Casino Resort Ballroom
8/5 -- West Allis, WI, Wisconsin State Fair
8/8 -- Kettering, OH, Fraze Pavilion for the Performing Arts
8/10 -- Aurora, IL, River Edge Park
8/13 -- Mayo Performing Arts Center -- Morristown, New Jersey
8/14 -- Indianapolis, IN, Indiana State Fair
8/15 -- St. Charles, MO, The Family Arena
8/21 -- Sandy, UT, Sandy Amphitheater
8/24 -- Citrus Heights, CA, The Sunrise Marketplace Pavilion
10/8 -- Simcoe, Canada, Norfolk County Fair
Copyright 2013 ABC News Radio