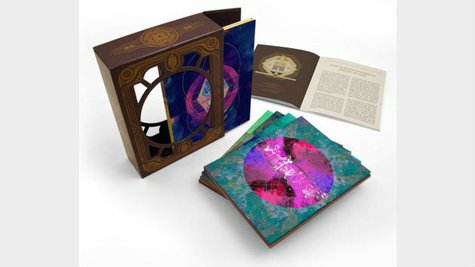 Great news for all of you Grateful Dead completists: A massive limited-edition box set gathering together five full concerts that the band played during its famed spring tour of 1977 is available for pre-order now exclusively at Dead.net .
The 14-CD collection, titled May 1977 , features The Dead's performances from May 11 in St. Paul, Minnesota; May 12 and 13 in Chicago; May 15 in St. Louis; and May 17 in Tuscaloosa, Alabama. Only 15,000 copies of May 1977 are being produced, each individually numbered. The set is priced at $139.98.
The May 1977 package comes housed in a special box featuring artwork by Grammy-winning graphic artist Masaki Koike . It includes a booklet offering details about each show, vintage photos by James R. Anderson and an essay by Steve Silberman .
May 1977 captures The Grateful Dead shortly before the Terrapin Station album hit stores, and boasts early performances of a number of tunes from the record, including the "Terrapin Station Suite," "Passenger," "Sunrise" and the group's version of Martha and the Vandellas ' "Dancing in the Street." The collection also features renditions of such Dead classics as "Uncle John's Band," "St. Stephen," "Friend of the Devil," "Bertha" and "Sugar Magnolia," plus first-time performances of "Jack-A-Roe" and "Iko Iko."
The box set will begin shipping on June 11, while a digital version of the collection will go on sale that same day at Dead.net for $99.98.
"They are tremendous shows," says Dead archivist David Lemieux in a new video promoting May 1977 . "I think the reason it works so well as a box set is that [the shows are] very different from one another. They very much complement one another."
Copyright 2013 ABC News Radio