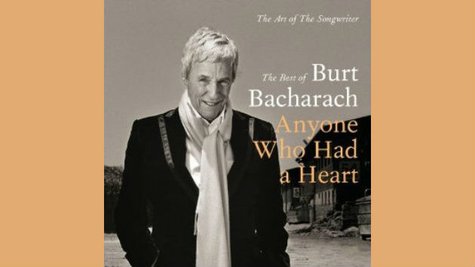 Burt Bacharach turns 85 on Sunday, and to celebrate the milestone, a new compilation album featuring various music stars performing a career-spanning selection of the lauded composer's songs will be released later this month.
The Art of the Songwriter: Anyone Who Had a Heart - The Best of Burt Bacharach is a two-CD set that boasts 40 tracks recorded by such legendary artists as Aretha Franklin , Dionne Warwick , Elvis Presley , Neil Diamond , Diana Ross & the Supremes , Gladys Knight & the Pips , Tom Jones , The Fifth Dimension and Bacharach himself.
Among the many classic tunes included on the collection, most of which Bacharach co-wrote with late lyricist Hal David , are "I Say a Little Prayer," "Alfie," "Wishin' and Hopin'," "Raindrops Keep Fallin' on My Head," "I'll Never Fall in Love Again," "What's New Pussycat?" and "Walk On By."
The Art of the Songwriter is scheduled to hit stores on May 28.
Meanwhile, Bacharach has penned a new autobiography titled Anyone Who Had a Heart: My Life and Music that was published on Tuesday. In the book, which was co-written by Robert Greenfield , the songwriter delves into his eventful music career and life, sharing the stories behind his compositions and discussing his turbulent marriages and the tragic suicide of his daughter.
Here is the complete track list for The Art of the Songwriter: Anyone Who Had a Heart :
Disc 1:
"I Say a Little Prayer" -- Aretha Franklin
"Raindrops Keep Fallin' on My Head" -- B.J. Thomas
"I Just Don't Know What to Do with Myself" -- Dusty Springfield,
"Waiting for Charlie to Come Home" -- Etta James
"The Story of My Life" -- Marty Robbins
"The Look of Love" -- Sergio Mendes & Brasil '66
"A House Is Not a Home" -- Brook Benton
"Arthur's Theme (Best That You Can Do)" -- Christopher Cross
"Baby It's You" -- Smith
"Tower of Strength" -- Gene McDaniels
"Magic Moments" -- Perry Como
"Take a Broken Heart" -- Rick Nelson
"Wishin' and Hopin'" -- Brenda Lee
"Don't Make Me Over" -- Sybil
"Any Day Now" -- Elvis Presley
"Twenty Four Hours from Tulsa" -- Gene Pitney
"I'll Never Fall in Love Again" -- Isaac Hayes
"Love's (Still) the Answer" -- Ronald Isley
"Anyone Who Had a Heart" -- Dionne Warwick
"What the World Needs Now" -- Jackie DeShannon
Disc 2:
"What's New Pussycat?" -- Tom Jones
"Alfie" -- Barbra Streisand
"Make It Easy on Yourself" -- The Walker Brothers
"This Guy's In Love with You" -- Herb Alpert
"Message to Michael" -- The Marvelettes
"One Less Bell to Answer" -- The Fifth Dimension
"Walk On By" -- Gloria Gaynor
"Trains and Boats and Planes" -- Astrud Gilberto
"Let the Music Play" -- Diana Ross & the Supremes
"You'll Never Get to Heaven (If You Break My Heart)" -- The Stylistics
"Wives and Lovers" -- Jack Jones
"Love Is My Decision" -- Chris De Burgh
"Keep Me in Mind" -- Patti Page
"On My Own" -- Patti LaBelle and Michael McDonald
"Nikki" -- Burt Bacharach
"My Little Red Book" -- Manfred Mann
"Overnight Success" -- Gladys Knight & the Pips
"Toledo" -- Elvis Costello and Burt Bacharach
"That's What Friends Are For" -- Kevin Eubanks
"Heartlight" -- Neil Diamond
Copyright 2013 ABC News Radio