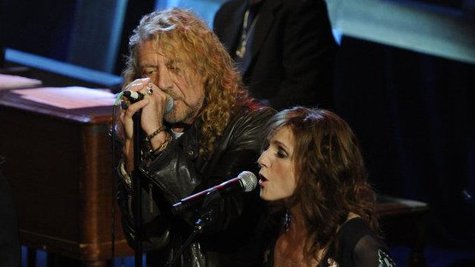 For the last few years, Led Zeppelin frontman Robert Plant and his Band of Joy collaborator Patty Griffin have been making beautiful music together both on and off the stage. The couple's close relationship has led to much media speculation about whether the two might actually be married.
While Plant has previously denied that he and the Americana singer/songwriter are hitched, Griffin has now offered her own two cents on their status to Billboard . "We're not legally married, no," she tells the magazine.
As for the creative aspects of their relationship, Griffin says, "We get a lot of energy from each other's singing." She adds, "We both have similar places that we come from as singers -- a lot of emotion, and sometimes the emotion overrides technique. He inspires me. He goes far and deep."
Plant contributes vocals to three songs on Griffin's new solo album, American Kid , which arrived in stores today. Among them is the lead single, "Ohio," a tune for which Robert was given a co-writing credit for helping to arrange the track. Plant also is featured in the official video for "Ohio," which can be viewed online now.
Copyright 2013 ABC News Radio