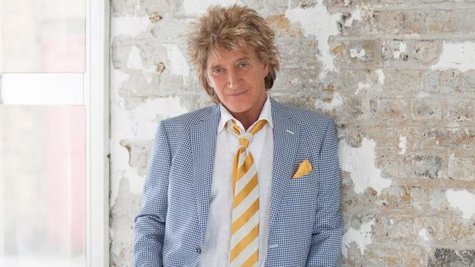 Rod Stewart was a guest on ABC's Jimmy Kimmel Live! on Monday night to promote his first album of new material in nearly two decades, Time , which debuts today.
Rod told host Jimmy Kimmel that he hadn't written music for such a long time -- instead choosing to work on his Great American Songbook series -- because he'd lost faith in his songwriting abilities. But, he added, "I got it all back and I'm very, very happy."
Rod spent much of the interview chatting about his friendship with Elton John , whom he's known for 40 years. He recalled what he described as a "gay" safari trip he took with Elton in Kenya, during which they wore bowties and jewelry for dinner every night. Rod also said that he and Elton would "go around and study droppings and so we would call each other 'poopologists.'"
Rod also remembered giving a fancy refrigerator that stores champagne to Elton for Christmas back in the '70s, and receiving a much-more-expensive Rembrandt painting in return.
In the most awkward moment of the interview, Jimmy asked Rod to draw an image of a man's private parts inside a copy of Rod's autobiography, and on a mug featuring the images of The View co-hosts.
Rod closed the show by performing a song off his new album, "Can't Stop Me Now."
Copyright 2013 ABC News Radio