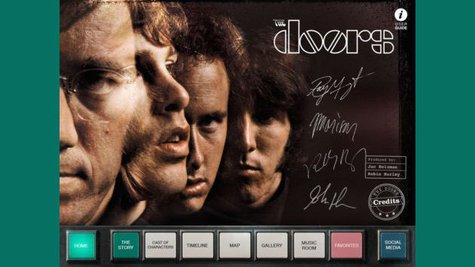 The Doors have taken the deep dive into the digital world, introducing a new official iPad app that's available for purchase now exclusively at the iTunes' App Store. Titled simply The Doors , the $4.99.program lets fans explore all aspects of the band's stories career through a variety of interactive features, previously unreleased photos, rare videos and much more.
The app was devised and produced by Elektra Records founder Jac Holzman and Rhino Entertainment exec Robin Hurley , with input from surviving Doors John Densmore , Robby Krieger and Ray Manzarek and the estate of late frontman Jim Morrison . Among its many features are a timeline detailing key moments in the band's history, an interactive map of Los Angeles highlighting locations important to the group, plus song lyrics, information about The Doors' albums, full-length promotional videos and various audio and film clips.
Among the hundreds of images included in the application are band photos, record-sleeve art, memorabilia, concert posters, contracts and letters. Other features include interviews, info about the recording equipment The Doors used, and essays written by various renowned artists and journalists, including Patti Smith , Hunter S. Thompson , David Fricke and Greil Marcus .
One particularly interesting section of the application focuses on the infamous 1969 incident at a Doors concert in Miami, at which Morrison was accused of exposing himself to the audience. The feature includes a graphic novelization of the episode, audio of the singer recorded during the show, Morrison's mugshot, reports about the case from the FBI and the police, a segment of Jim's testimony, and the posthumous pardon issued to Morrison in 2010.
Coinciding with the app's arrival, newly remastered versions of all of The Doors' albums were released via iTunes. In addition, three new digital compilations -- The Complete Studio Albums , Behind Closed Doors: The Rarities , and Strange Nights of Stone Vol. II: The Bright Midnight Archives Concerts -- also debuted at iTunes, as did the new retrospective collections The Very Best Of and The Future Starts Here: The Essential Doors Hits .
Copyright 2013 ABC News Radio