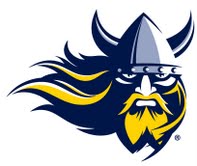 BURNSVILLE, MN (KWSN)– The Northern Sun Intercollegiate Conference announced its postseason awards on Wednesday and Augustana's Emily Kvidera, Jennifer Pederson, Maggie Leland, Allie Ostrander and head coach Peggy Kirby were all honored.
Kvidera was named the NSIC's Golfer of the Year as well as first team All-NSIC, while freshman Jennifer Pederson was named the league's Newcomer of the Year and second team All-NSIC. Kirby was voted by her peers as the NSIC's Women's Golf Coach of the Year.
Leland and Ostrander both earned All-NSIC First Team honors.
Kvidera, a native of Blaine, Minn., led all golfers in the NSIC with a 77.7 stroke average and was named the conference's player of the week five times this season. Kvidera was the NSIC's Newcomer of the Year in 2009-10, as she won the NSIC's Individual Medalist at the conference tournament as a freshman. Kvidera has finished in the top 10 of an event in 10 of Augustana's 12 competitions this season, including two individual medalist honors.
Pederson, from Inver Grove Heights, Minn., compiled an 80.73 stroke and recorded five top-five finishes, including medalist honors in a dual with the University of Sioux Falls where she shot her season-low round of one-under-par 71 and earned NSIC Player of the Week honors. She finished tied for 12th at the NSIC Championships shooting a 341 (87-86-85-83), helping Augustana to its fourth straight conference championship.
Leland, a native of Alexandria, Minn., delivered five top-10 finishes this season, including a second place finish at the NSIC Championships. Leland won medalist honors at Augustana's fall invitational earlier this season. She has compiled an 80.77 stroke average on the season and most recently finished 21st at the NCAA Central Region Championships.
Ostrander, from Glenwood, Minn., was the individual NSIC Champion this season, winning the conference tournament with a four-round score of 313 (75-80-78-80). Ostrander ranks second on the team with a 78.42 stroke average and has picked up seven top-five finishes on the season. She recently delivered a 16th place finish at the Central Region Championships with a 54-hole score of 247 (74-84-89).
Augustana qualified for the NCAA Championships for the sixth straight season with a second place finish at the Central Region Championships. The NCAA Championships will be held May 15-18 at LPGA International in Daytona Beach, Fla.
Courtesy: Augustana College and NSIC