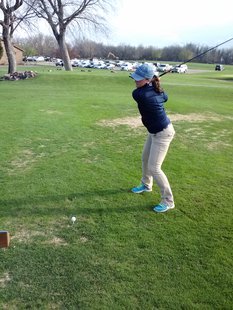 SIOUX FALLS, SD (KELO) - Golfing at Elmwood Golf Course can be a tall order. Now, stack on storm damage, wind, taking clothing off because it got warm and putting clothes back on because it got cold, and oh yes, the rain. Those were the challenges the girls golf teams from Sioux Falls Washington, Lincoln, Roosevelt and O'Gorman had to endure.
"There was a lot of moving with the elements today," said Claire Jansa, O'Gorman Team Captain. "I had to think a lot out there today with the wind and other distractions. But, it was good to be outside again."
Jansa is the only senior on the O'Gorman team. She reflected on the missed matches that won't be made up this season.
"Right now my focus in on the City Matches and I can't look beyond that right now," said Jansa. "I am going to do my best and let the shots fall where they may."
When asked about her thoughts on the state tournament, Jansa said, "I would like to finish out my senior year with a bang.
Coach Rod Garrison was pleased with the way his team played. He said the elements like the late Spring greens, the wind, the cold and the rain weren't conducive to shoot really low scores.
"We need to play another good round Monday at Westward Ho," said Garrison. "Country clubs like Westward Ho are great equalizers." Not many players have played there yet this year so it will make it interesting. This year due to weather restrictions, we had to cut the City Tournament from three to two matches."
The results of the first round are as follows:
TEAM SCORES:
SF O'Gorman 316
SF Lincoln 370
SF Roosevelt 399
SF Washington 400
Individual Results:
1. OGorman - Kelsey Johnson 72
2. O'Gorman - Claire Jansa 79
3. O'Gorman - Jamie Benedict 79
4. Lincoln Abbie Grevlos 84
5. Lincoln - Mae Meierhenry 85
6. O'Gorman - Myla Brown 86
7. O'Gorman - Meredith Turner 87
8. O'Gorman - Annie Simon 88
9. Roosevelt - Taylor Leasure 88
10. Washington - Ashlee Eggebraaten 90
* Next round will be played at Westward Ho Country Club Monday starting at 1100.