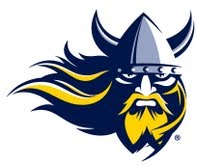 MANKATO, MN (KWSN)– No. 6 seed Augustana pounded out nine hits but left 12 runners on base in a 3-2 loss to third-seeded Minnesota State University in the first round of the NCAA Central Region 2 Tournament. The Mavericks (39-10) scored all three runs in the first inning and that would be enough to take down the Vikings (32-16).
Carley Pickett worked five innings in relief of Augustana starter Jenelle Trautmann and allowed just two hits and no runs. Trautmann was tagged with the loss allowing three runs on two hits, falling to 25-11 on the season.
Trautmann set down the first two batters in the bottom of the first quickly but hit and walked the next two batters keeping the inning alive for the Mavericks. Anna Cole and Kelly Wood delivered back-to-back singles pushing across three runs to give Minnesota State a 3-0 lead.Augustana had a hit in every inning of the game, except for the fourth, and left at least one runner on base in every inning.
Trautmann, Lindsay Spanton and Erin Kempf each had two hits for the Vikings in the game.Augustana got on the board in the top of the sixth inning on a two-run home run by Carly Peterson.
With one out in the inning, Pickett reached on an error, setting up Peterson for her third home run of the season.
The Vikings put together a threat in the top of the seventh inning after a leadoff single by Trautmann and a one-out single by Erin Kempf. Chelsi Winskowski reached on a fielder's choice on a bunt attempt, but Cassandra Kranz, who pinch ran for Trautmann, was forced out at third base leaving runners on first and second with two outs.
Pickett grounded out to the pitcher and the Vikings would come up short, leaving two runners on base in the seventh.
Augustana will play the loser of No. 2 seed Southeastern Oklahoma State and No. 7 seed Winona State tomorrow at 1:30 p.m. in Mankato, Minn.