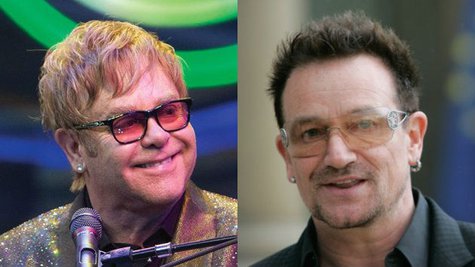 An impressive list of music stars, including Elton John , U2 's Bono , Paul Simon and Sting , were on hand to entertain the many wealthy and famous guests who attended the 25th anniversary Robin Hood Foundation gala, held Monday at the Jacob Javits Center in New York City. The event raises money to fight poverty and help those in need in the New York City area.
According to The Wall Street Journal , Elton delivered a rendition of "Tiny Dancer" as attendees enjoyed dinner. Meanwhile, Simon, who was an unannounced performer, took to the stage to play his classic "The Boxer," reports Businessweek.com . Sting then joined the folk-rock legend for a duet rendition of his own tune "Fields of Gold."
During the performance, the former Police frontman quipped, "We've started a new band. "It's called Simon and Stingfunkel."
Mary J. Blige closed out the festivities, with Elton, Sting and Bono all joining the hip-hop/soul diva during the finale. The evening's entertainment also included stand-up comedy sets from Jerry Seinfeld and Louis C.K. According to Businessweek.com the event raised more than $80 million for the Robin Hood Foundation.
Copyright 2013 ABC News Radio