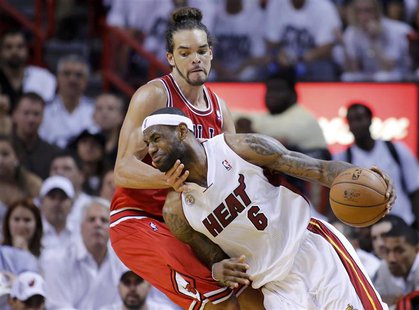 By Simon Evans
MIAMI (Reuters) - The Miami Heat reached their third straight Eastern Conference final after a 94-91 win over Chicago on Wednesday secured a 4-1 series victory for the defending NBA champions.
Miami will face the winners of the series between the New York Knicks and the Indiana Pacers. Indiana currently lead 3-1 going into Thursday's Game Five in New York.
A series that began with a Chicago upset win in Miami and included some fierce, physical encounters, ended with a strange game as Miami blew an 18-point first quarter lead but somehow managed to claw their way back to victory.
"It was very challenging to be up like we were and then to be down like we were in second half. Mentally, we had to not get too high, not get too low in the whole game," said Miami's LeBron James, who ended with 23 points.
"Emotionally, this game took a lot out of both teams," added the league MVP, who said he was left with "no energy".
The Heat made a blistering start, putting up 10 unanswered points to start the game and upped their advantage to 18 in the first quarter but once again the Bulls fought back.
Miami's sharp movement of the ball fell away dramatically, as did their shooting, as Chicago, led by the livewire Nate Robinson and powerhouse Carlos Boozer, roared back.
Chicago led 53-47 at the half and went into the fourth quarter with a 77-69 advantage but Miami got their second wind when it mattered.
A three-pointer from Shane Battier and a Chris Anderson dunk helped Miami close the gap before Norris Cole's left-handed dunk put the Heat back in the lead with 6:40 left on the clock.
'NO QUIT'
Still the Bulls kept on scrapping and it was not until Jimmy Butler's hopeful three-point attempt in the final moments was off-target that Miami could finally celebrate.
Dwyane Wade, who has struggled with his knee, provided 18 points and some crucial defensive plays for Miami in the fourth quarter.
Boozer ended with 26 points and 14 rebounds as the depleted Bulls, who played without their star Derrick Rose throughout the season, finally bowed out.
While Miami won the best-of-seven series in five games, that outcome masks the determination of a Bulls team that were also robbed of Luol Deng and Kirk Hinrich.
Head coach Tom Thibodeau said the way his team fought back from a big early deficit summed up his team's year.
"It is sort of the story of the season. Obviously we are disappointed in losing the series but I was never disappointed in the team," he told reporters. "I thought our team fought hard all year. There was no quit in them."
The Heat's quality and depth proved to be too much though.
"You have to give them a lot of credit. They are a great team. They are not going to beat themselves, you have to beat them," said Thibodeau.
Heat head coach Erik Spoelstra said the Bulls had shown their resilience throughout the series.
"We knew right from the beginning that we would have to earn everything we got. That certainly played out to be true," he said. "They made it extremely tough but in the fourth quarter we were able to change the momentum and finally turn the corner."
(Editing by Peter Rutherford)