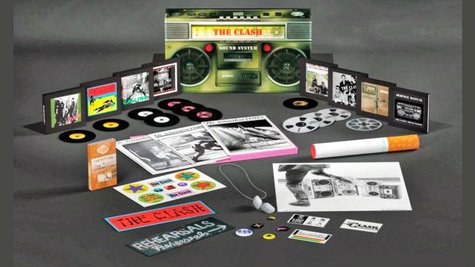 From punk pioneers to musical innovators who cross-pollinated rock with reggae, hip-hop and other genres, The Clash blazed a fiery trail during the 1970s and '80s that influenced and inspired countless bands that emerged in their wake.
Now, the group's surviving members have designed and compiled a massive new box set titled Sound System that collects all five of the U.K. rockers' studio albums along with a plethora of demos, singles, B-sides and outtakes; promotional videos; concert footage; memorabilia; and much more.
Scheduled to be released on September 10 , Sound System features a total of 12 discs, including the three CDs of extra material and a DVD. Among the bonus tunes are previously unreleased tracks from The Clash's very first recording session at Beaconsfield Film School in 1976, demos the band laid down for the Polydor label in November 1976 and performances from a December 1978 concert at The Lyceum Theatre in London.
The DVD, meanwhile, contains interview and concert footage shot by director Julien Temple and frequent Clash collaborator Don Letts , unreleased performances from a 1977 show at England's Sussex University, footage from the band's famous spring 1981 run of shows in New York City and a career-spanning selection of promo clips.
Sound System comes housed in a boom box-shaped case that also features a booklet, fanzines, a poster and collectible dog tags, badges and stickers. In celebration of the box set, Clash guitarist Mick Jones , bassist Paul Simonon and drummer Topper Headon have lent their voices to a quirky video in which they discuss the concept behind Sound System .
In conjunction with the arrival of Sound System , The Clash also is putting out CD and vinyl box sets featuring just the remastered versions of their studio albums. In addition, a compilation called The Clash - Hits Back , featuring 33 of the group's most popular songs, will be issued as a two-CD set and a three-LP vinyl collection on September 10. The retrospective's track list is based in part on a set that the band played at a famous 1982 concert held at London's Brixton Fair Deal venue.
To find out more details about the upcoming Clash releases, visit TheClash.com .
Copyright 2013 ABC News Radio