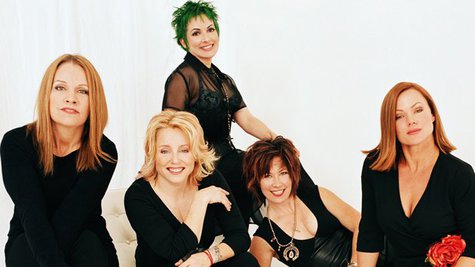 Two months after The Go-Go's announced they'd parted ways with longtime member Kathy Valentine , the bassist has initiated a lawsuit against her old band mates alleging that they're illegally trying to "deprive her" of her rightful share in the group.
According to The Hollywood Reporter , Valentine's suit, which was filed Friday in Los Angeles, claims that current Go-Go's Belinda Carlisle , Jane Wiedlin , Charlotte Caffey and Gina Schock have created a new company called GoGoCo Corp. to handle the group's business dealings that will, in effect, "dilute the plaintiff's share of band revenues."
Valentine owns a 20-percent stake in two other older Go-Go's-related companies -- Ladyhead LLC and Smith-Pocket Industries, Inc. -- but the lawsuit claims that with the launching of GoGoCo, her share in the band will be reduced to only two percent, which will cost her "substantially in excess" of $1 million. The complaint contends that the other Go-Go's devised the "scheme" to "'squeeze out' and 'freeze out'" Kathy from participating in the group's upcoming 2013 tour.
Valentine had played with The Go-Go's for more than 30 years and had co-written many of the band's songs, including the hits "Vacation" and "Head over Heels." In early March, the group revealed that she was no longer a member of the group, citing "irreconcilable differences."
The Go-Go's kick off a new North American tour on June 8 in Wichita, Kansas. The trek currently is mapped out through a July 14 show in Costa Mesa, California. The B-52s also will perform on most of the dates.
Copyright 2013 ABC News Radio