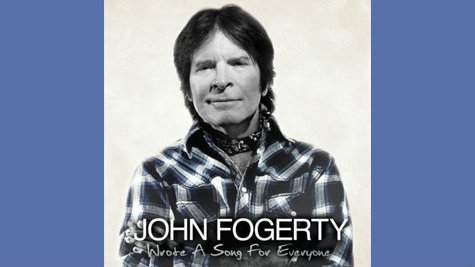 John Fogerty 's new album, Wrote a Song for Everyone , finally arrives in stores today. As previously reported, the former Creedence Clearwater Revival frontman will celebrate the record's release -- and his 68th birthday -- with a special show tonight at the El Rey Theatre in Los Angeles. If you weren't able to score tickets for the sold-out concert, you'll still be able to check the event out on TV -- it will air live on AXS TV starting at 11:30 p.m. ET/8:30 p.m. PT.
Wrote a Song for Everyone recently scored a rare five-star rating from Rolling Stone magazine. The star-studded collection of tunes features new versions of select songs from Fogerty's CCR and solo catalogs. Among the artists who contributed to the album are Bob Seger , Foo Fighters , Kid Rock , Rage Against the Machine 's Tom Morello , Jennifer Hudson , My Morning Jacket , Brad Paisley , Miranda Lambert , Alan Jackson , Keith Urban and The Zac Brown Band . The 14-track effort also includes two new brand-new Fogerty compostions -- "Mystic Highway" and "Train of Fools." In addition, John's sons, Shane and Tyler , join their dad on a rendition of Creedence's "Lodi."
In other news, Fogerty is featured on the latest episode of comedian Marc Maron 's online series of podcasts. During the nearly two-hour conversation, the rock legend talks in depth about his years in Creedence, discusses the writing of many of his best-known tunes and touches on a wide variety of other topics. Check it out at WTFPod.com .
Copyright 2013 ABC News Radio