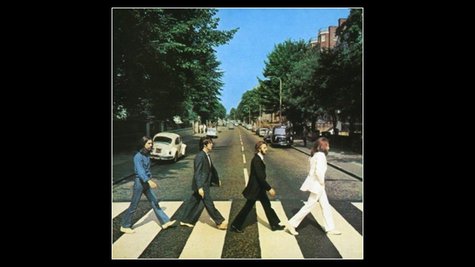 Traffic officials in Calcutta, India, have come up with a clever use of the iconic cover photo of The Beatles ' Abbey Road album to help raise awareness about the dangers of jaywalking in the city. The Daily Telegraph reports that hundreds of posters featuring the famous image, which shows the Fab Four walking across the lined street crossing in front of London's Abbey Road Studios, recently have been put up around Calcutta along with a message that reads "If they can, why can't you?"
More than 400 people are killed -- and over 2,000 are injured -- annually in traffic accidents in Calcutta, but local officials report that the city's accident rate has dropped about 20 percent since the posters were put up.
"We are trying to say that if John , Paul , George and Ringo could use the zebra crossing, you can do it too," explains Supratim Sarkar , joint commissioner of Calcutta's traffic police. "The Beatles touched thousands of lives with their music and we are simply trying to use their universal appeal to save lives."
Meanwhile, U.K. politician Lindsey Hall , who represents Abbey Road on a London city council, said recently in response to hearing about the posters, "I am very proud if Abbey Road is a beacon for road safety around the world."
Copyright 2013 ABC News Radio