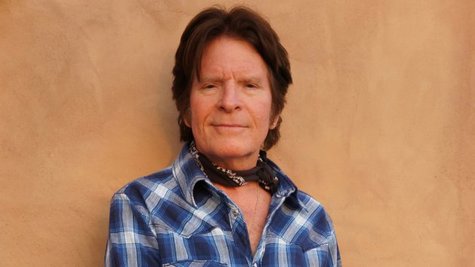 Coinciding with today's release of John Fogerty 's latest album, Wrote a Song for Everyone , an official video for the rock legend's new single, "Mystic Highway," has premiered on the CMT network and its related platforms -- CMT Pure, CMT.com and CMT Mobile. The clip, which was directed by veteran video maker Bill Fishman , features the ex- Creedence Clearwater Revival frontman reflecting on his life and career as he drives a beat-up pickup through rural Southern California.
As the video begins, Fogerty is shown in a garage loading some guitars and an amp into the back of his truck as he prepares for a road trip. The action then cuts between scenes of the rocker playing the song in the garage and of him motoring down the road. As John rides down the highway, archival images and video clips are seen superimposed onto the landscape.
Fogerty eventually reaches his destination, a family get-together at a rustic cabin where a group of youngsters are having fun toasting marshmallows on a fire. As the video comes to a close, John is seen playing his guitar on the cabin's steps in front of the kids, while his son Shane accompanies him on acoustic guitar.
In the Wrote a Song for Everyone liner notes, Fogerty says he came up with the concept behind "Mystic Highway" more than 20 years ago. "I pictured a group of travelers, perhaps an extended family, standing on the road with their faces to the sky," he explains. "They're worn, but not weary. They are in constant motion along their journey of destiny. They don't know exactly where or how long they'll be traveling, but they do understand that the end of the road, wherever that is, will be worth the trip."
Copyright 2013 ABC News Radio
Get More: Mystic Highway , John Fogerty , John Fogerty Videos