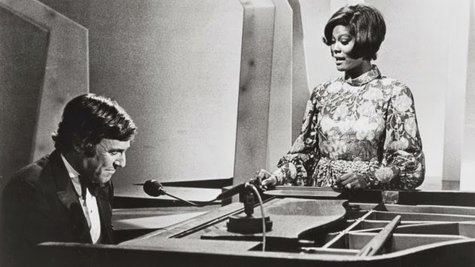 A new television special celebrating the music of legendary songwriter Burt Bacharach is scheduled to premiere this Saturday on PBS. The program, My Music: Burt Bacharach's Best , will feature archival footage of a selection of pop superstars singing various classic tunes co-written by the 85-year-old composer.
The special, which is hosted by veteran actor Robert Wagner , boasts rare clips from television shows that aired during the 1960s, '70s and '80s. Among the many artists featured on the show are frequent Bacharach collaborator Dionne Warwick , plus Stevie Wonder , Elton John , Gladys Knight , The Carpenters , The Fifth Dimension , Tom Jones , Dusty Springfield and B.J. Thomas .
From his work with longtime lyricist Hal David through his later collaborations with such fellow songwriters as his ex-wife Carole Bayer Sager , Bacharach was responsible for co-writing dozens of memorable hits. This past month saw the publication of Burt's new memoir, Anyone Who Had a Heart , while a companion two-CD compilation titled The Art of the Songwriter also was released.
Here is a list of songs and artists featured in the My Music: Burt Bacharach's Best special. Check your local listings for when it airs in your area:
"Walk On By" -- Dionne Warwick
"I Say a Little Prayer" -- Dionne Warwick
"Any Day Now" -- Chuck Jackson
"What's New Pussycat?" -- Tom Jones
"The Look of Love" -- Dusty Springfield
"This Guy's In Love with You" -- Herb Alpert
"This Girl's In Love with You" -- Dionne Warwick
"Alfie" -- Dionne Warwick
"Raindrops Keep Fallin' on My Head" -- B.J. Thomas
"One Less Bell to Answer" -- The Fifth Dimension
"What the World Needs Now Is Love" -- Jackie DeShannon
"(They Long to Be) Close to You" -- The Carpenters
"A House Is Not a Home" -- Burt Bacharach and Dusty Springfield
"Arthur's Theme" -- Christopher Cross and Burt Bacharach with Carole Bayer Sager
"That's What Friends Are For" -- Elton John, Dionne Warwick, Stevie Wonder and Gladys Knight
"(There's) Always Something There to Remind Me" -- Burt Bacharach and orchestra
Copyright 2013 ABC News Radio