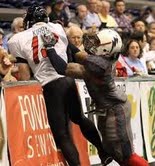 Sioux Falls, SD (KWSN)- The Sioux Falls Storm (8-4) made large strides toward their post-season goals on Saturday night at the Sioux Falls Arena. The strides weren't necessarily pretty…but important strides none the less. The Storm earned a revenge victory over the Cedar Rapids Titans, who dominated the Storm 52-18 just two weeks ago in Cedar Rapids.
The win knocks the Titans out of the top spot in the United Conference, which now belongs to the Storm. With only 3 weeks left in the season and only two United Conference teams making the playoffs, this win cannot be understated. The Storm earned the victory but not in their usual dominant, efficient fashion.
The Storm offense was held to just 109 total yards. They were outgained by the Titans with 125 yards. The Storm offensive effort was marred with missed reads, stalled drives and red zone turnovers. This game was decided by strong defense and abundant penalties. In the first half, the two teams combined for 113 penalty yards and only 90 in offense.
The Storm Defense put on a proud performance. After giving up 294 yards to the Titans in their first meeting, the Storm Thunder Defense, led by Linebacker Tyler Knight, held the Cedar Rapids attack to just 125 yards.
Knight racked up 7 tackles, .5 sacks, 1.5 tackles for loss and also had a pivotal fourth quarter play. With less than five minutes left in the game, TK forced Titans QB Colton Hanson to fumble on his own 5 yard line. Knight then scooped up the ball and walked into the end zone for a game changing touchdown.
He joined Sports Talk with Craig and Chris Wednesday and talked about the game last Saturday night.
The Storm now sits in first place of the United Conference. There is a much needed bye schedule this week. They will return to action on June 8 three more weeks of regular season action, it's hard to know what the playoff scenario will be by then.
But at this point, The Storm controls their own destiny for both a berth and home field advantage throughout.
The Storm are next in action June 8 when they host the Texas Revolution. Kickoff is scheduled for 7:05pm.
Courtesy: Sioux Falls Storm