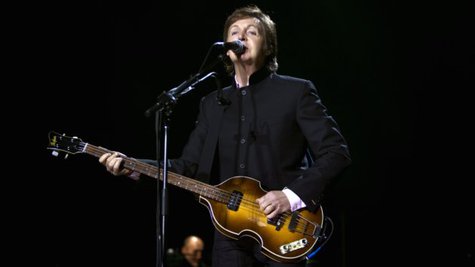 Tonight, Paul McCartney begins a two-show engagement at the BOK Center in Tulsa, Oklahoma, and in honor of the rock legend's visit to Oklahoma, Gov. Mary Fallin declared Wednesday in the state. According to a NewsOK.com report, the proclamation praised the ex- Beatles star for his hugely successful music career, while also acknowledging his charity work in support of impoverished people, music education and animal rights.
In addition, the BOK Center and the city of Tulsa are celebrating the McCartney concerts by temporarily rechristening several local streets with Beatles-themed names. The temporary monikers include Abbey Road (3rd Street), Penny Lane (Denver Ave.), Blackbird Boulevard (1st Street) and All Together Crossing (Frisco Ave.). McCartney's shows coincide with the fifth anniversary celebrations of the arena. Sir Paul previously performed at the BOK Center in 2009, during the first anniversary festivities for the venue.
McCartney's current stint of U.S. concerts winds down with a June 14 performance at the Bonnaroo festival in Manchester, Tennessee. He'll then head to Europe for a few shows kicking off another series of North American dates on July 7 in Ottawa, Canada.
Copyright 2013 ABC News Radio