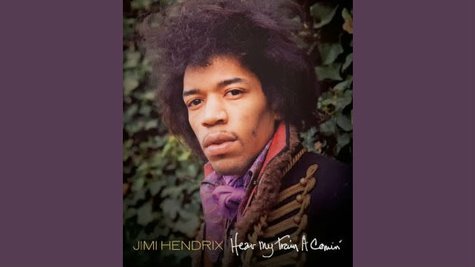 Just a reminder that the new Jimi Hendrix documentary Hear My Train A Comin' will premiere tonight at 9 p.m. on select PBS stations as part of the network's American Masters series; check local listings. The two-hour film tells the story of the late guitar legend's life and career, from his childhood, through early years as a sideman to Little Richard and The Isley Brothers to his ascendency to stardom and his drug-related death in 1970 at age 27.
The documentary boasts previously unreleased concert performances and home movies, rare photographs and some of Hendrix's drawings and letters. In addition, Hear My Train A Comin' includes interviews with Jimi, his family members, his band mates and many of his famous musical friends and fans.
Among the many stars featured in the flick are Jimi Hendrix Experience drummer Mitch Mitchell and bassist Noel Redding , Band of Gypsys members Billy Cox and Buddy Miles , Hendrix manager/founding Animals bassist Chas Chandler , Paul McCartney , Steve Winwood , ZZ Top 's Billy Gibbons , Dave Mason , Michelle Phillips and Living Colour 's Vernon Reid .
Meanwhile, Jimi Hendrix -- Hear My Train A Comin' also will be released on DVD and Blu-ray today. The videos discs will offer expanded footage of Jimi in concert, including performances at the Miami Pop Festival in May 1968, the New York Pop Festival in July 1970 and Germany's Love & Peace Festival in September 1970.
A companion piece to the DVD and Blu-ray, a live album titled Jimi Hendrix Experience: Miami Pop Festival , also is arriving in stores today. The record features a previously unreleased performance by Jimi and company recorded by famed Hendrix engineer Eddie Kramer on May 18, 1968, in Hallandale, Florida. The album will be available as a standard CD and on limited-edition vinyl.
Copyright 2013 ABC News Radio