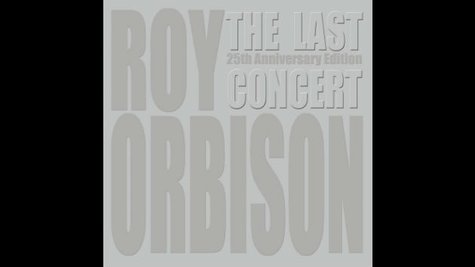 An archival live album capturing the great Roy Orbison 's final performance before his untimely death in 1988 will be released on December 3. The Last Concert -- 25th Anniversary Edition features highlights from the rock 'n' roll legend's December 4, 1988, show in Highland Heights, Ohio, which took place just two days before he passed away at age 52 after suffering a heart attack.
The 14-track album offers renditions of many of Orbison's most famous tunes, including "Oh, Pretty Woman," "Only the Lonely," "Blue Bayou," "In Dreams" and "Crying." At the time of the concert, Roy was experiencing a huge career resurgence thanks to his participation in the Traveling Wilburys supergroup -- which also featured Bob Dylan , George Harrison , Tom Petty and Jeff Lynne -- as well as his 1987 induction into the Rock and Roll Hall of Fame and the recent use of "In Dreams" in director David Lynch 's popular film Blue Velvet .
The Last Concert comes packaged with a DVD that contains an interview Orbison conducted after the show and a montage of photos from the gig. The video also includes some bonus performances from concerts that Roy played in 1981 in Reseda, California, and 1986 in Houston. In addition, the album features a new 850-word essay written by Orbison's son Alex .
Meanwhile, Orbison's classic 1987 concert video Black and White Night will be re-released on DVD this Monday. The star-studded event, which took place on September 20, 1987, and initially aired as a TV special, featured Roy performing alongside a variety of famous musical friends and fans, among them Bruce Springsteen , Jackson Browne , Tom Waits , Elvis Costello , T Bone Burnett , Bonnie Raitt , k.d. lang and J.D. Souther . Orbison and company were backed by Elvis Presley 's famed TCB Band , which included guitar great James Burton , keyboardist Glen D. Hardin , bassist Jerry Scheff and drummer Ronnie Tutt .
Here is the full track list for Orbison's The Last Concert album:
"Only the Lonely"
"Leah"
"Dream Baby"
"In Dreams"
"Mean Woman Blues"
"Blue Bayou"
"Candyman"
"Crying"
"Ooby Dooby"
"Go, Go, Go (Down the Line)"
"It's Over"
"Working for the Man"
"Lana"
"Oh, Pretty Woman"
Copyright 2013 ABC News Radio