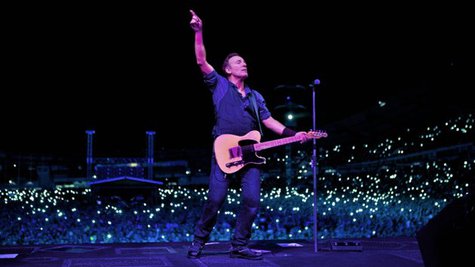 Rock fans know a Bruce Springsteen concert sometimes resembles a church service, with the Boss taking on a preacher-like persona to deliver the gospel of rock 'n' roll. Now, a new college course offered by New Jersey's Rutgers University will take an in-depth look at actual religious themes featured in the famed singer-songwriter's music.
The class, titled " Bruce Springsteen's Theology ," is one-credit, one-semester course that's open only to first-year students. The class is the brainchild of Azzan Yadin-Israel , an associate professor of Jewish studies and classics who's been a fan of Bruce since his middle-school years.
Speaking recently with Rutgers Today , Yadin-Israel explains that examples of both literal and figurative biblical references can be found throughout the Boss's career, noting that "the seminar includes lyrics of songs from Greetings from Asbury Park, New Jersey , Springsteen's first album, all the way through Wrecking Ball ." He gives as specific examples "Adam Raised a Cain," "Jesus Was an Only Son" and "In the Belly of the Whale," while pointing out that themes and images such as redemption, faith and the promised land recur often in Bruce's songs.
In addition, Yadin-Israel makes the observation that "Springsteen refers more often to the stories of [the Old Testament] than the New Testament," while adding that the Boss "often recasts biblical figures and stories into the American landscape."
"Bruce Springsteen's Theology" is part of the college's Byrne Seminars, a series of introductory classes with a limit of 20 students that offer relatively light workloads.
Yadin-Israel says that while "there's no expectation that [any of his students] will become a Springsteen scholar," he hopes they "gain an appreciation for a particular way of thinking about texts, an attentive engagement of an author's work and an understanding of the broader contexts -- political, literary, theological, etc. -- that inform a work."
Copyright 2013 ABC News Radio