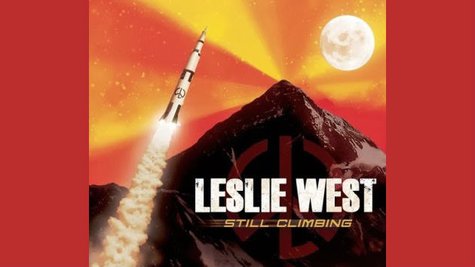 Leslie West recently released a new studio album titled, Still Climbing , that sees the founding Mountain frontman teaming up with some other famous rockers on a selection of original songs and well-known covers. Among the well-known musicians who lent their talents to the project were Twisted Sister 's Dee Snider , Johnny Winter , Jonny Lang and Creed / Alter Bridge guitarist Mark Tremonti .
West collaborated with Snider on a duet version of late actor-singer Anthony Newley 's memorable tune "Feeling Good." Leslie tells ABC News Radio that he's known Dee for 35 years and, beyond being an entertaining frontman, he happens to be a great singer.
He also notes that a friend who listened to the track "couldn't tell which one was Dee and which was me…so I figure we did something right."
West tapped Winter to play some of his trademark blues slide riffs on a new song called "Busted, Disgusted or Dead." "[He] plays slide guitar like no one else," Leslie declares. "It's like pornography -- I can't tell you what it is, but if I saw it, 'Oh yeah, that's porn.' When I hear his guitar I can say, 'Oh yeah, that's Johnny Winter.'"
The 68-year-old rocker reports that another highlight of the Still Climbing sessions was recording a cover of Percy Sledge 's soul standard "When a Man Loves a Woman" with Lang. West says he and his fellow guitar virtuoso sat side by side in the studio as they traded solos, something he enjoyed immensely.
As for what his favorite overall track from the album is, Leslie says "Not Over You at All," a tune that features a sax solo from longtime Uptown Horns member Arno Hecht .
"I love that one," West says. "The structure of it, the verse, the intro, when it goes to the middle and I like the solo I did."
Leslie has dealt with quite a few health issues in recent years, most notably the amputation of his right leg in 2011 due to complications from diabetes. However, his singing is sounding better than ever on Still Climbing . West says his newfound vocal chops can be attributed to the fact that he gave up smoking seven years ago after he developed bladder cancer.
"I stopped smoking weed and cigarettes and I think, finally, I could tell, my voice sounds stronger on this album," he explains, "even to me, and I hated my voice."

West recently celebrated the release of Still Climbing with a show at New York City's famous jazz club The Iridium, but has no further dates on his itinerary. He tells ABC News Radio that his amputation has made touring difficult for him, but he hopes a special bus can be designed that will make traveling less of a hassle.
You can find out more about Still Climbing and West's upcoming plans by logging on to LeslieWestOfficial.com .
Copyright 2013 ABC News Radio