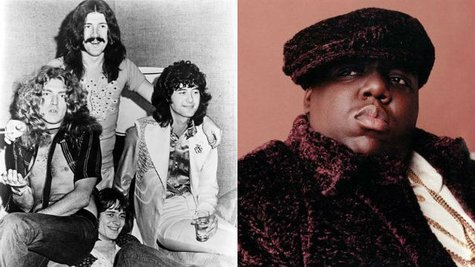 In the great tradition of Aerosmith and Run DMC 's rock-meets-rap "Walk This Way" collaboration comes a new mash-up titled "Ramblize" that Led Zeppelin 's Jimmy Page has posted on his official SoundCloud page . The track melds Led Zeppelin's classic 1969 tune "Ramble On" with "Hypnotize," the 1997chart-topping hit for the late hip-hop superstar The Notorious B.I.G. , aka Biggie Smalls .
Page directed fans to the tune via a tweet last Friday that included the note, "On this day Biggie Smalls." It's unclear what's significant about the date, however, since the rapper died on March 9, 1997 -- unless Page was merely noting that on that day, he was presenting the mashup.
Among the prominent elements of "Ramble On" showcased in "Ramblize" are Page's strummed guitar and John Paul Jones ' bass line, along with occasional vocal samples of Robert Plant singing "now I smell the rain" and "aw, sometimes I grow so tired."
It's worth noting that dozens of hip-hop artists have sampled Led Zeppelin songs over the years, while Page himself recreated the main riff in "Kashmir" for the 1998 Puff Daddy hit "Come with Me," which appeared on that year's Godzilla soundtrack.
Copyright 2013 ABC News Radio