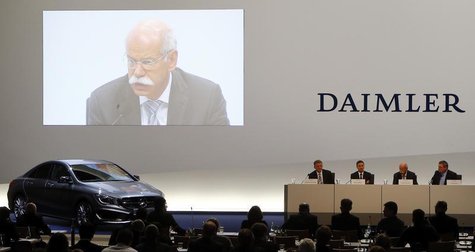 BEIJING (Reuters) - Daimler AG said on Tuesday it will take a 12 percent stake in China's BAIC Motor.
"The strategic investment proves our long-term commitment to China and our partner," Dieter Zetsche, Daimler's chairman of the board of management and head of its Mercedes-Benz Cars unit, said in a statement.
BAIC Motor will take 51 percent of the manufacturing joint venture with Daimler while the German automaker takes 51 percent of the sales joint venture with BAIC Motor.
The agreement has the approval of China's central government, Daimler said.
In February, Daimler had announced it would buy a 12 percent stake in BAIC Motor and get two seats on the board.
(Reporting By Norihiko Shirouzu; Editing by Jacqueline Wong)