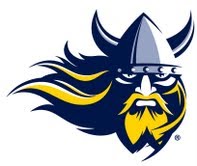 Burnsville, MN (KWSN-AM) The Northern Sun Intercollegiate Conference announced its 2013 All-Conference football teams on Tuesday and six Augustana football players were honored. The all-conference teams are voted on by the league's 16 head coaches.
Juniors Jake Lee (Defensive Line) and Ben Skelly (Linebacker) earned All-NSIC South Division First Team Defense honors while junior linebacker Brandon Mohr and senior safety Thomas Vanasek were named to the South Division's Second Team Defense. Sophomore defensive back Justin Brown and senior wide receiver Noah Huisman were named to the honorable mention All-NSIC South Division Team.
Lee, a 5-foot-11, 270-pound nose guard from Blue Earth, Minn., had an outstanding junior season, setting career-highs in multiple categories. Lee finished the season ranked fifth on the team with a career-high 44 tackles (16 solo, 28 assists), while racking up 11.0 tackles for loss from the nose guard position. The junior posted a career-high 4.0 sacks on the season and forced two fumbles and recovered another. Lee recorded at least one tackle in all 11 games this season, including a career-high 10 against Minnesota State on Oct. 12.
Skelly, a 6-foot-1, 205-pound linebacker from Lakeville, Minn., led Augustana and ranked fifth in the NSIC with 99 tackles on the season. Skelly recorded a team and career-high 52 solo tackles, while picking up 8.0 tackles for loss and forced two fumbles. The junior picked off his first career pass during the season and returned it for a touchdown. Skelly recorded at least three tackles in all 11 games this season, and set his career-high with 15 tackles against Upper Iowa on Oct. 19.
Mohr, a 6-foot-0, 230-pound linebacker from Sioux Falls, S.D., ranked second on the team and ninth in the NSIC with 92 total tackles in 2013. Mohr, who missed one game on the season due to injury, posted five or more tackles in all 10 games he played in. Mohr recorded 11 tackles in a game three times this season, and his career-high of 12 against Winona State on Nov. 9. The junior racked up 9.5 tackles for loss, including 3.5 sacks and intercepted one pass on the season.
Vanasek, a 6-foot-1, 203-pound safety from Lakeville, Minn., finished the season ranked fourth on the team with 75 total tackles, including 46 solo stops. The senior recorded 2.0 tackles for loss in 2013, while breaking up four passes and forcing two fumbles. He recorded three or more tackles in all 11 games this season, including a season-high 10 three times. Vanasek, an All-NSIC South Division Second Team honoree last season, finishes his career at Augustana with 218 career tackles, including 13.5 for loss and four sacks.
Brown, a 6-foot-1 188-pound corner back from Littleton, Colo., appeared in all 11 games, recording 37 tackles, including 25 solo stops and 2.0 tackles for loss. Brown led the team with three interceptions on the season, which ranked eighth individually in the NSIC. The sophomore led the team with five pass break-ups on the season and also had one fumble recovery.
Huisman, a 6-foot-3, 203-pound wide receiver from Mason City, Iowa, finished the season with 33 receptions for 403 yards and two touchdowns. Huisman averaged 12.2 yards per catch and a team-high 40.3 receiving yards per game in 2013. Huisman finished his career at Augustana with 88 receptions for 876 yards and four touchdowns.
Minnesota State's Jon Wolf was named the Offensive Player of the Year, while U-Mary's Grant Singer and Minnesota State's Chris Schaudt were named Co-Defensive Players of the Year. Winona State's Jack Nelson was named the league's Offensive Newcomer of the Year while USF's John Batinich was named the Defensive Newcomer of the Year.
Minnesota State head coach Aaron Keen was named the NSIC's Coach of the Year for the second straight year.
Augustana finished the season 4-7 overall, finishing tied for 10th in the 16-team conference. The Vikings were 2-5 in NSIC South Division play, tying for sixth in the eight-team division.
Courtesy of Augustana Athletics