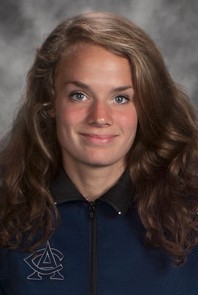 BURNSVILLE, Minn. (KWSN) - Runa Falch's record-setting race was honored with her being named Northern Sun Intercollegiate Conference athlete of the week in a release from the conference on Tuesday morning.Falch set a course record at the Roy Griak Invitational when she won the Maroon Division race on Saturday.
Finishing with a time of 21:34.3, Falch set a new course-best mark. The senior from Steinkjer, Norway methodically picked off runners before overtaking the lead with 600 meters left in the race and finishing with a new record.Falch's win -- her second in as many races this season -- led the Vikings to the second team win of the season.
The Vikings tallied 83 points to secure their team title.Falch has been named national athlete of the week by the US Track & Field and Cross Country Coaches Association twice this season and now earns her second NSIC honor as well. Falch has been honored as NSIC athlete of the week five times in her career in addition to NSIC athlete of the year in 2010 and 2011.
The Vikings return to action at the Chile Pepper Festival in Fayetteville, Ark. On Oct. 5.
Courtesy: Augustana College