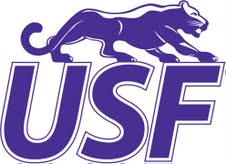 SIOUX FALLS, S.D. (KWSN) – The University of Sioux Falls men's cross country team entered the USTFCCCA Division II Top 25 Polls for the first time in school history as announced by the USTFCCCA on Wednesday. The Cougars enter the polls rated as the No. 22 team in the Nation and are the second highest rated team in the NSIC.
"It's exciting to see our men's team nationally ranked for the first time in program history," said head coach Grant Watley. "This group of men has worked extremely hard and it's great to see them begin to get noticed on a national level."
The Cougar men have had an impressive showing in the 2013 season, placing 3rd overall at the Augustana Twilight and also coming away with a runner-up finish at the St. Olaf Invitational.
At the Augustana Invitational, the Cougars placed two runners in the top ten of the race. Ethan Tabbert and Billy Brockmueller would lead the way finishing in 5th and 6th place respectively.
USF earned its first individual title of the season when Matthew Horan won the St. Olaf Invitational setting a meet record by 16 seconds. The Cougars would place four men in the top 15 at that race.
The USF men are currently rated as the No. 4 team in the Central region which is a one spot improvement from last week.
"This group has been extremely blessed and we are thankful to God for the opportunities that he has afforded us through running," said Watley. "We're excited to see what the remainder of the season has to hold for both our men and women squads."
The USF men's and women's teams will compete next at the Briar Cliff Invitational on October 12.
Courtesy of University of Sioux Falls