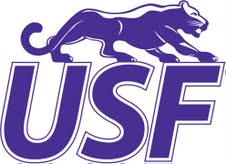 MARSHALL, MN (KWSN) – USF coach Jed Stugart knew what was at stake heading into Saturday's NSIC South bout at Southwest Minnesota State. The Cougars would either move backwards or forwards.
It took some fourth quarter heroics, but a couple of game-changing plays helped the Cougars (3-2, 1-0 NSIC South) stomp the gas pedal and not look back.
Luke Papilion threw two touchdown passes, including a 51-yarder to Wes Smith and ran for three more scores, leading the Cougars to a 55-48 victory over Southwest Minnesota State in a thrilling game between NSIC South foes Saturday night in Marshall.
SMSU (2-3, 0-1) got a career-best 308 yards receiving and four touchdowns from senior wideout Anthony Dean, and the Mustangs went ahead 48-45 on a field goal by Lance Schuveiller with 11:57 to go.
A crowd of nearly 3,900 watched the USF freshman signal caller's 17-yard touchdown run break a 48-48 tie with 0:44 left in the game and a desperation drive for SMSU stalled at the USF 35-yard line, allowing the Cougars to improve to 3-2 on the season despite surrendering an NSIC record 828 yards of offense.
The Mustangs came up empty-handed on their opening series when Lance Schuveiller's 33-yard field goal attempt sailed wide right. USF drew first blood when a 6-play, 80-yard drive set up senior wide receiver Wes Smith for a 51-yard touchdown reception. It was the first touchdown of the season for the Northern Iowa transfer as well as the first time this season that the Cougars scored on their opening drive. USF forced the Mustangs to punt in their next drive, but when the Cougars missed a 38-yard field goal, SMSU split the uprights from 27 yards out to get on the board. The Cougars had a short field on the ensuing series thanks to Smith's 38-yard return and Papilion wasted no time, gaining 46 yards with his feet before Nephi Garcia capped the drive with a five-yard rush into the endzone.
The Mustangs fumbled on their next two possessions and while they dodged a bullet the first time when USF quarterback Corbin Lawler fumbled at the SMSU 34, they weren't so lucky the second time around. John Tidwell forced a fumble after a short gain by Anthony Dean and Clint Wilson scooped up the ball and brought it back to the SMSU 15-yard line. Three running plays and 46 seconds later, Garcia was in the end zone again and the visitors extended their lead to 21-3.
The fight wasn't over. SMSU came out of the gates swinging after the Cougars' third score and battled back to within seven, 31-24 at half.
The Cougars received the ball to start the second half and Garcia juked his way to the SMSU 46 for a 29-yard gain. Two plays later, Papilion found Smith for a 37-yard touchdown pass that gave USF a two-touchdown advantage at 38-24. The teams mostly traded scores from that point on with SMSU tying the game at 45 and then taking their first lead early in the fourth on Schuveiller's 26-yarder.
But that was plenty of time for Papilion and the high-powered Cougars on a day when neither defense had much success. He handed the ball four times in a row to Garcia, who moved the chains twice and allowed the Cougars to set up shop at the SMSU 39-yard line. Two snaps later, Carrington Hanna found a seam and Papilion delivered a 10-yard pass to set up 3rd-and-1 at the Mustang 25. Six running plays later, Bradley Hatfield drilled a 19-yard chip shot to tie the game at 48-48.
Stugart's defense held firm on the following drive as the Mustangs were corralled at their own 15-yard line and forced to punt. A holding penalty pushed the Cougars back to their 28-yard line but Papilion erased the damage with a 29-yard strike to Josh Angulo. Garcia later picked up 12 yards on back-to-back carries to put the Cougars in the red zone but it was Papilion who delivered the final blow.
On a read-option play, Papilion pulled the ball and ran it for 17 yards and the game-winning score.
Papilion rushed for 204 yards and three touchdowns and threw for 168 yards and two touchdowns. Garcia rushed for 136 yards and two scores (his fourth straight game with over 100 yards). USF surpassed 400 rushing yards for the third time in their last four games, and have now rushed for 1,520 yards in that span.
Hanna finished with four catches for 50 yards, but Smith turned out to be Papilion's go-to receiver. The senior had four catches for 111 yards, including touchdown runs of 51 and 37 yards.
The Cougars had 618 yards of total offense, the second straight week they went over 600. USF also set a new record for offensive plays in a single game (100); the previously record of 96 plays was set against Concordia (Neb.) during the 2009 season. For SMSU, Tyler Tonderum rushed for 271 yards, going over 1,000 for the season. Charlie Kern completed 31-of-48 passes for 512 yards and four touchdowns, while Anthony Dean caught 11 passes for 308 yards and four scores. Carter Ahlers was credited with a team-best 15 tackles. John Batinich posted 10 tackles and he and Jarrett Grabbe both sacked Mustang quarterback Charlie Kern for a loss of six yards. Hatfield finished 2-for-3 on field goal attempts (38, 19).
The win over a division rival gives the Cougars a lot of momentum heading into the rest of their schedule, as they prepare to host Winona State (3-2, 1-0) next Saturday for Homecoming Weekend.
Courtesy: University of Sioux Falls