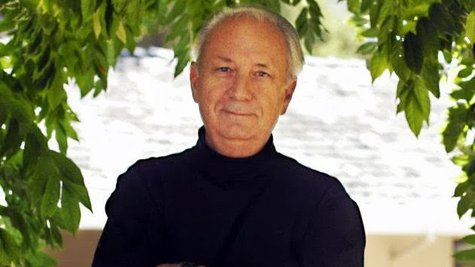 Michael Nesmith 's return to performing continues, as the Monkees singer/guitarist has lined up a new series of fall U.S. dates. The trek gets under way October 27 in Phoenix and will wind around the States through a November 24 show in Milwaukee.
Nesmith discussed his plans for the upcoming tour in some recent Facebook posts, explaining that the new solo shows will be similar in structure to the ones he did this past spring, "but with different songs."
The 70-year-old musician reports that he intends to perform only material from solo career, with the one exception possibly being the Monkees tune "Listen to the Band," which he says "is so much fun to play." Fans can expect to hear such Nesmith compositions as "Joanne," "Some of Shelley's Blues" and "Different Drum," the song with which Linda Ronstadt scored her first hit.
For select shows, Nesmith is selling special "Conversation Reception Passes," which will give fans the opportunity to chat in person and take a photo with the veteran artist, as well as having an item autographed by him.
In addition, Michael reveals that he's planning to put together a limited-edition live CD featuring his favorite performances from the upcoming trek.
Nesmith, who also has begun touring again with his fellow surviving Monkees band mates, says of his return to the stage, "Live performance is such a wonderful experience and I am happy to be back and out among the stars. It is the most fulfilling aspect of a music career to me."
Here are all of Nesmith's upcoming solo tour dates, according to his website VideoRanch3D.com :
10/27 -- Phoenix, AZ, MIM Music Theater
10/29 -- Austin, TX, One World Theatre
10/30 -- Dallas, TX, The Kessler Theater
11/1 -- Birmingham, AL, The WorkPlay SoundStage
11/2 -- Atlanta, GA, Variety Playhouse
11/4 -- Vienna, VA, The Barns at Wolf Trap
11/5 -- Annapolis, MD, Rams Head On Stage
11/7 -- Bay Shore, NY, YMCA Boulton Center for the Performing Arts
11/8 -- Phoenixville, PA, The Colonial Theatre
11/10 -- Shirley, MA, The Bull Run Concert Series
11/11 -- Fall River, MA, Narrow Center for the Arts
11/12 -- Englewood, NJ, Bergen Performing Arts Center
11/14 -- Elyria, OH, Stocker Arts Center
11/15 -- Chicago, IL, City Winery
11/17 -- Franklin, TN, The Franklin Theatre
11/18 -- Franklin, TN, The Franklin Theatre
11/19 -- St. Louis, MO, Old Rock House
11/22 -- Bloomington, IN, Buskirk-Chumley Theater
11/21 -- Ferndale, MI, The Magic Bag
11/23 -- Chicago, IL, City Winery
11/24 -- Milwaukee, WI, Turner Hall Ballroom
Copyright 2013 ABC News Radio