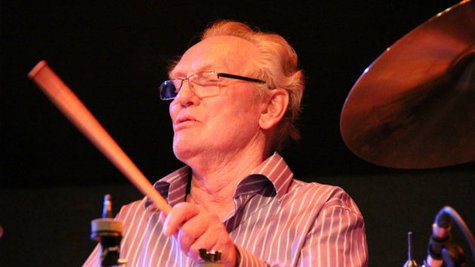 Ginger Baker is set to play his first concerts in the U.S. since Cream 's historic 2005 reunion shows at Madison Square Garden in New York City. This time around, the drumming legend will be performing on much smaller stages with his new jazz quartet, Ginger Baker's Jazz Confusion .
The trek kicks off tonight, October 8, in New Hope, Pennsylvania, and runs through an October 22-23 stand in Seattle, with the centerpiece of the outing being a four-night engagement, this Wednesday through Saturday, at New York's famed Iridium jazz club.
Baker has a high expectations about how his band will be received by his American fans. "We'll blow you all away," he tells ABC News Radio.
Joining Baker in Jazz Confusion are saxophonist Pee Wee Ellis , who previously has played with James Brown and Van Morrison ; bassist Alec Dankworth , the son of renowned jazz artists John Dankworth and Cleo Laine ; and African percussionist Abbas Dodoo , who's been collaborating with Ginger for a number of years.
Baker says he's enjoying playing with the group "enormously," while maintaining that "the lineup [of] tenor [sax], bass and African drums and drums [hasn't] ever been done before, therefore, the music is different."
While the 74-year-old Rock and Roll Hall of Famer has a hard time specifically describing the sound of Jazz Confusion, he notes, "There's some pretty amazing stuff we're doing now, and it's mostly original." He adds, "Everywhere we've played it's gone down amazingly well. People love it."
As for whether the group has any recording plans, Ginger says, "We'd like to but nothing's happened in that direction as yet."
Baker may be happy about playing with his current collaborator, but he insists that he has no interest in doing any more reunion shows with Cream.
"Everybody asks that stupid question. We did it -- it's been done," grumbles Ginger in reference to the 2005 concerts the famed trio played at London's Royal Albert Hall and the aforementioned Madison Square Garden.
"I want to move forward. I don't like going backwards," Baker explains. "The reunion was great. It was good to do it, particularly the Albert Hall, [but] it's been done."
Check out the full U.S. itinerary for Baker's Jazz Confusion at GingerBaker.com .
Copyright 2013 ABC News Radio